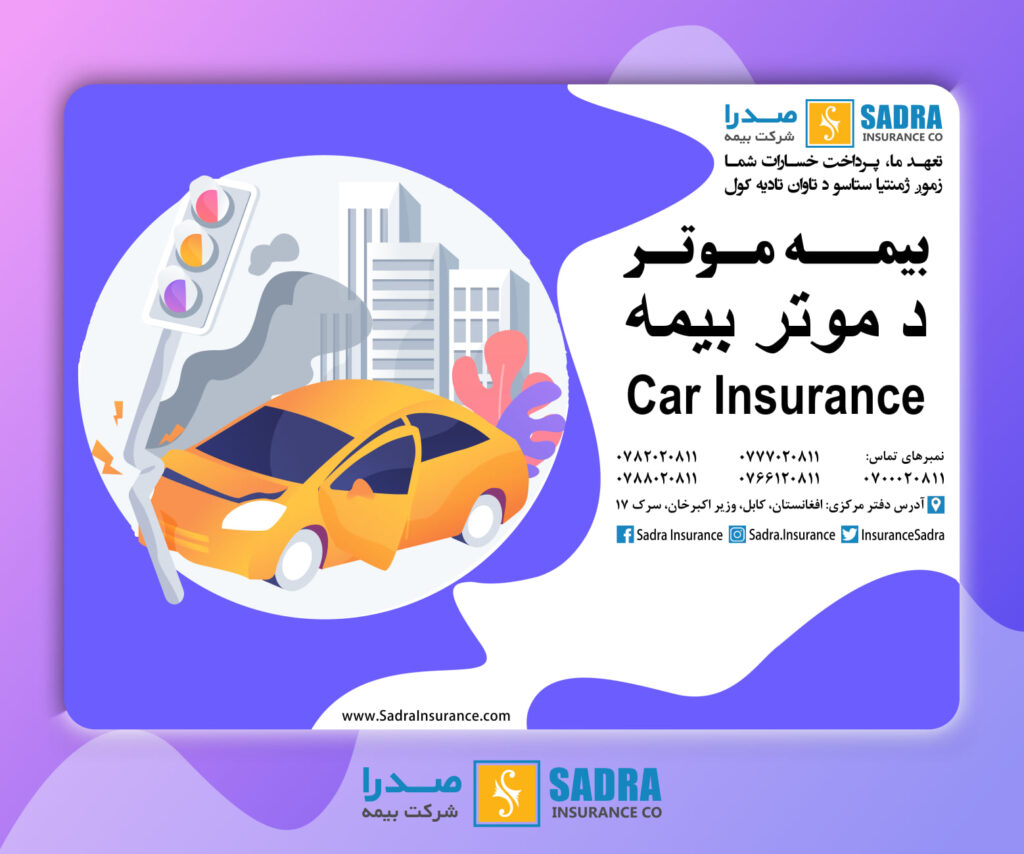 Sadra Insurance Company offers comprehensive motor insurance coverage to vehicle owners in Afghanistan. As a new and promising insurance company, Sadra Insurance aims to provide top-notch protection and peace of mind to its customers in the event of accidents, theft, or damages to their vehicles.
Key features of Sadra Insurance's motor insurance:
Coverage Types: a. Third-Party Liability Coverage: Sadra Insurance offers the legally required third-party liability coverage, which protects policyholders from financial liabilities arising from damages or injuries caused to third parties by their insured vehicles. b. Comprehensive Coverage: In addition to third-party liability, Sadra Insurance's comprehensive coverage includes protection for damages to the insured vehicle caused by accidents, theft, vandalism, natural disasters, and other specified perils.
Competitive Premiums: Sadra Insurance offers competitive premium rates, tailored to individual customers' needs. Premiums are determined based on factors such as the driver's age, driving history, vehicle type, and chosen coverage options.
Deductibles: For comprehensive coverage, Sadra Insurance provides flexible deductible options to suit the policyholders' preferences. The deductible amount is agreed upon during the policy purchase and affects the premium amount.
No-Claim Bonus: Sadra Insurance rewards responsible drivers with a no-claim bonus. Customers who maintain a claim-free record during their policy term can enjoy a discount on their premiums upon renewal.
Additional Coverage Options: Sadra Insurance offers various optional coverage add-ons, including: a. Personal Injury Protection (PIP): Provides coverage for medical expenses of the insured and passengers in case of an accident. b. Uninsured/Underinsured Motorist Coverage: Protects policyholders from damages caused by drivers with inadequate or no insurance coverage. c. Roadside Assistance: Offers assistance for common breakdowns, such as towing, fuel delivery, or battery jump-starts. d. Rental Car Coverage: Provides coverage for rental vehicles while the insured's car is being repaired after an accident.
Exclusions: Policyholders are advised to review Sadra Insurance's policy documents to understand the exclusions, which may include intentional damage, racing, using the vehicle for commercial purposes without appropriate coverage, and driving under the influence of drugs or alcohol.
Hassle-Free Claim Process: In the event of an accident or incident, Sadra Insurance's efficient claim process ensures that policyholders receive prompt assistance and compensation for covered damages or injuries.
With Sadra Insurance's reliable and customer-focused motor insurance, vehicle owners can drive with confidence, knowing they are protected by a company dedicated to professionalism and excellence in the insurance industry.